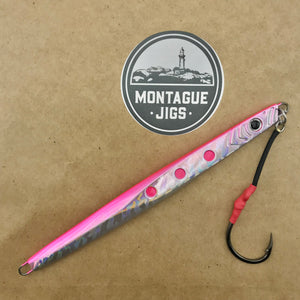 The Montague Magic Jig is a successful partner to the Donga. Better suited to a stronger current this jig is very effective for high speed vertical drops and can hold on top of fish. Another favourite for yellowtail fishers. 
This style of jig has been widely used and a proven performer for both professional and Amateur fishermen along the southern NSW coastal fisheries. 
The indents along the lateral line are glow in the dark as a further bite enticement. This model is tougher than any previous jigs of such style.
Available in 150gm and 200gm